Created by the Value Team at Schroders, the Value Perspective podcast takes a look at decision making in complex and uncertain environments.
Episodes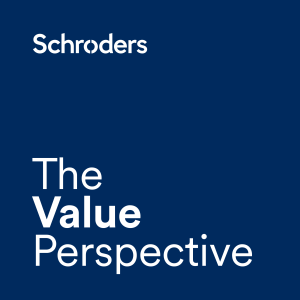 Tuesday Apr 13, 2021
Tuesday Apr 13, 2021
We are very excited to welcome Ted Seides to The Value Perspective podcast for this episode. You many know Ted as the host of the Capital Allocators podcast and the author of So You Want to Start a Hedge Fund and Capital Allocators: How the world's elite money managers lead and invest. Previous to starting podcasting, Ted began his career working on external public equity managers, internal fixed income portfolio management and in an alternative investment firm that invested in and seeded small hedge funds.
In this episode, Ted sits down with Juan and Nick to discuss what Ted has learned through his podcast's 200+ episodes, a bet he made with Warren Buffet on hedge funds vs. S&P 500, and his views on analysing investment processes including probabilistic thinking, the importance of diversity and recognising biases.
EPISODE MINUTES: 
01:08 Introduction
02:10 Ted's background
05:49 What has Ted learned through his podcast?
07:30 Learning from other industries
10:52 A bet with Warren Buffet: good process, bad outcome
16:18 What was the rationale behind the bet?
18:58 Probabilistic thinking - can we take historical averages to help us make decisions?
22:33 Do the best capital allocators factor in 'pot stakes' into their process?
25:47 What's the importance of diversification? 
28:51 Is there a value-add to meeting managers, capitol allocators, etc. face-to-face?
31:48 Why is confirmation bias the prevalent bias? Is it the riskiest?
37:17 Cognitive diversity: how to develop this in your team?
41:01 How does the origin of capital affect investment decisions?
45:10 Has 2020 changed the way institutional investors think of absolute and relative returns?
48:18 Is ESG making a significant impact?
50:24 A decision where the outcome was unwanted due to bad process.
Book recommendations:
NEW EPISODES:
You can subscribe via Podbean or use this feed URL (https://tvpschroders.podbean.com/feed.xml) in Apple Podcasts and other podcast players.
GET IN TOUCH:
send us a tweet: @TheValueTeam 
Important information. This podcast is for investment professionals only.
This information is not an offer, solicitation or recommendation to buy or sell any financial instrument or to adopt any investment strategy.
Any data has been sourced by us and is provided without any warranties of any kind. It should be independently verified before further publication or use. Third party data is owned or licenced by the data provider and may not be reproduced, extracted or used for any other purpose without the data provider's consent. Neither we, nor the data provider, will have any liability in connection with the third party data.
Reliance should not be placed on any views or information in the material when taking individual investment and/or strategic decisions. Any references to securities, sectors, regions and/or countries are for illustrative purposes only. The views and opinions contained herein are those of individual to whom they are attributed, and may not necessarily represent views expressed or reflected in other communications, strategies or funds.
The value of investments and the income from them may go down as well as up and investors may not get back the amounts originally invested. Exchange rate changes may cause the value of any overseas investments to rise or fall.
Past Performance is not a guide to future performance and may not be repeated.
The forecasts included should not be relied upon, are not guaranteed and are provided only as at the date of issue. Our forecasts are based on our own assumptions which may change.