Created by the Value Team at Schroders, the Value Perspective podcast takes a look at decision making in complex and uncertain environments.
Episodes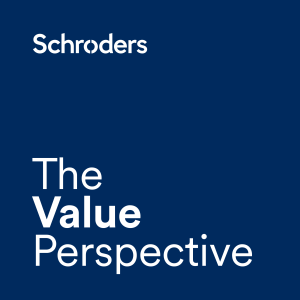 Tuesday May 04, 2021
Tuesday May 04, 2021
This week on the TVP pod, Juan and Kondi welcome David Holland of Fractual Value Advisors and the
author of "Beyond Earnings". We discuss David's musical background, the intersection of finance and
strategy including valuation, and the importance of language when discussing probabilities.
MINUTES:
1:06 Intro
2:04 David's background - From engineering to an MBA in South Africa to valuation guru
7:08 Music - what role can non-fungible tokens have in the music industry?
12:13 Strategic decision making - what can be taught about decision making that can have real world
applications?
16:23 What is more difficult to correct: over-precision or over-estimation biases?
19:38 Can probabilistic thinking be introduced through non-technical language?
23:08 How can you make a decision when the range of possibilities is too large?
25:52 Integrating good decision making in a workplace culture
30:57 How do these type of MBA lessons apply outside of business?
33:51 The purpose of averages rather than more precise figures in large scale decisions
38:30 "Growth is the most misunderstood word in the investment community"
43:01 When does the pursuit of growth come at the cost of value to a company?
45:35 ESG and Sustainability frameworks in valuation - What's their role in emerging markets?
48:13 Book Recommendation and a bad process decision example
Book recommendations:
• Beyond Earnings by David Holland and Bryant Matthews
• Calling Bullsh*t: the Art of Scepticism in a Data-Driven World by Carl Bergstrom and Jevin D. West
• Stoked! By Chris Bertish
• Supernatural Strategies for Making a Rock 'n' Roll Group by Ian F. Svenonius
• Thinking Fast and Slow by Daniel Kahneman
• Decision Analysis for the Professional by Peter McNamee
NEW EPISODES:
You can subscribe via Podbean or use this feed URL (https://tvpschroders.podbean.com/feed.xml) in Apple Podcasts, Spotify, and other podcast players.
GET IN TOUCH:
send us a tweet: @TheValueTeam 
Important information. This podcast is for investment professionals only.
This information is not an offer, solicitation or recommendation to buy or sell any financial instrument or to adopt any investment strategy.
Any data has been sourced by us and is provided without any warranties of any kind. It should be independently verified before further publication or use. Third party data is owned or licenced by the data provider and may not be reproduced, extracted or used for any other purpose without the data provider's consent. Neither we, nor the data provider, will have any liability in connection with the third party data.
Reliance should not be placed on any views or information in the material when taking individual investment and/or strategic decisions. Any references to securities, sectors, regions and/or countries are for illustrative purposes only. The views and opinions contained herein are those of individual to whom they are attributed, and may not necessarily represent views expressed or reflected in other communications, strategies or funds.
The value of investments and the income from them may go down as well as up and investors may not get back the amounts originally invested. Exchange rate changes may cause the value of any overseas investments to rise or fall.
Past Performance is not a guide to future performance and may not be repeated.
The forecasts included should not be relied upon, are not guaranteed and are provided only as at the date of issue. Our forecasts are based on our own assumptions which may change.